Colloquium Schedule
Friday, August 28, 2015 - 4:00pm
Wednesday, September 9, 2015 - 7:00pm
"Austerity Professionals and Shadow Citizens in Europe".
Wednesday, September 16, 2015 - 3:00pm
"Enforcing Equality: Court Rulings, Indigenous Women, and Political Participation in Oaxaca, Mexico".
Friday, September 18, 2015 - 4:00pm
"Performing Building Cycles: How Real Estate Actors Turn Construction Booms into Bubbles".
Friday, September 25, 2015 - 4:00pm
"Practical Panarchy: Assessing Adaptive Capacity of Regional Water Systems in the United States to Changing Climate" (Co-Sponsored by the Environment and Sustainability Studies Program and the Natural Resources and Environmental Science Program).
Friday, October 2, 2015 - 3:00pm
"Political Violence and Political Justice: A Critique of Criminal Justice as Accountability".
Friday, October 9, 2015 - 4:00pm
"Environmental Change as Uneven Development: Land Use and the Struggle Over Narrative in Morocco's Saharan Periphery". 
Friday, October 16, 2015 - 3:00pm
UK's Deparment of Geography Alumni Lecture.
Friday, October 23, 2015 - 4:00pm
to
Sunday, October 25, 2015 - 1:30pm
Friday, October 30, 2015 - 4:00pm
"A 'Geographic Cure' : Alcohol History and the Digital Humanities".
Friday, November 6, 2015 - 4:00pm
Please join us for Kendra McSweeney's Geography Colloquium Series presentation titled "Grounding Traffic: How the Cocaine Commodity Chain Transforms Spaces of Transit"on Friday, November 6th at 4PM in 204 White Hall Classroom Building. 
Abstract: Illicit commodity flows are emerging from the shadows—increasingly recognized as a key part of neoliberal economic geographies. While sites of illicit commodity production and consumption gain greater attention, sites of transit—so crucial to the functioning of illicit trade networks—remain largely unexplored. In this presentation, I unpack the functioning of a single rural transshipment node in the global cocaine trade, tracing the ways in which cocaine transit embeds in the social and ecological worlds of eastern Honduras' Moskitia region. Drawing from long-term research with communities there, I distinguish between 'background' agrarian dynamics and those directly related to the region's rise as a trafficking hub post ca. 2006. I show how narco-rents are captured and laundered, and by whom, and review the implications of the study for scholarship on 'land grabbing' and the development of rural peripheries in general.
Kendra McSweeney is a Professor in the Department of Geography at The Ohio State University. She studies human-environmental relationships with interests in cultural ecology, conservation and development, demography, and land use/cover change. Her research on forests and livelihoods, smallholder responses to rapid environmental change, and indigenous population dynamics all share a broad theme of examining how people who live within extremely dynamic landscapes respond to, and shape, environmental change (discursively, economically, or indirectly through demographic behaviors), and how a better understanding of these processes can inform rural development and conservation policy.
Wednesday, November 11, 2015 - 4:00pm
"Urban Policies on the Move".
Friday, November 20, 2015 - 4:00pm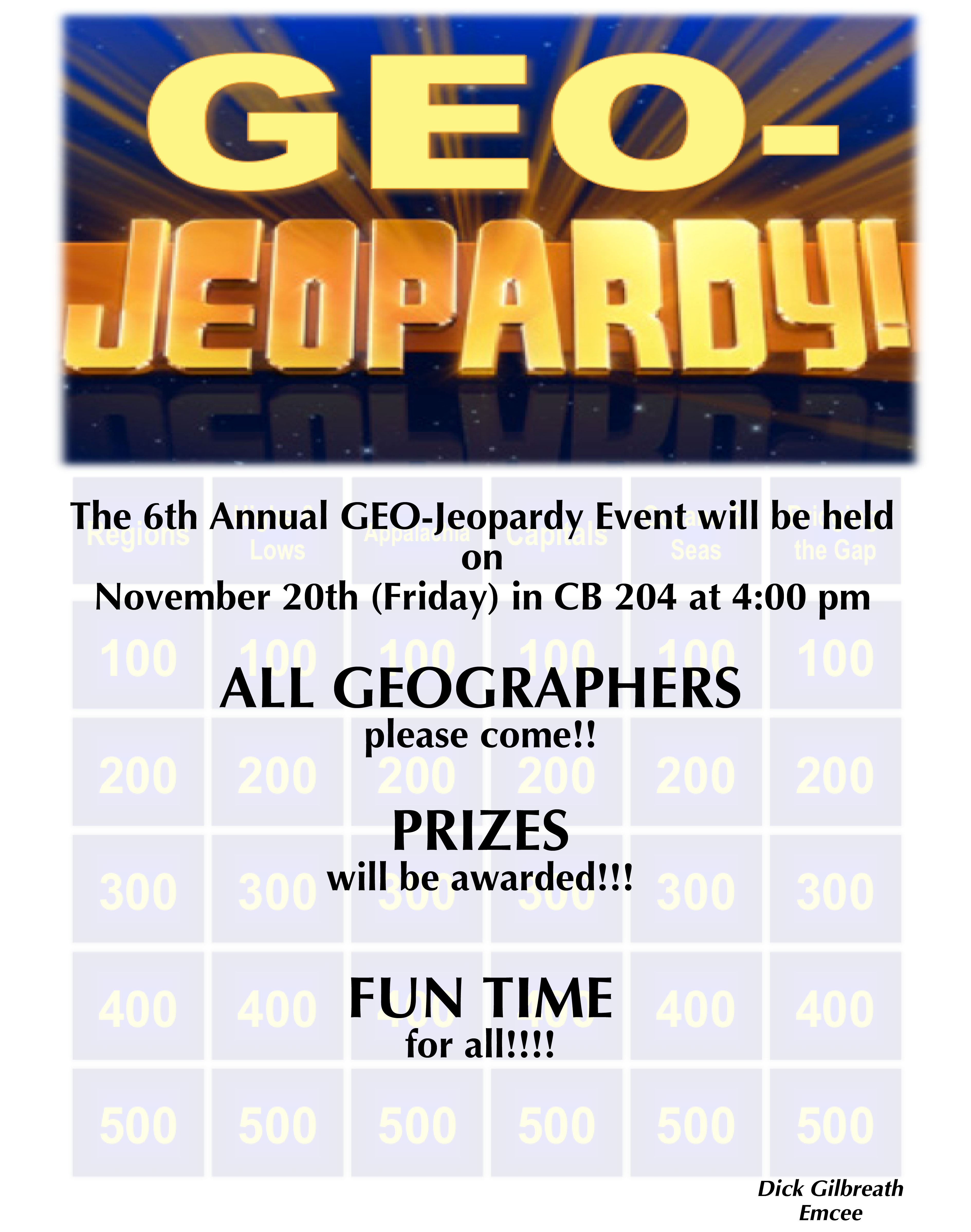 Thursday, December 3, 2015 - 3:30pm
"Distinguishing Between Climatic and Tectonic Influences on Topography: Best Practices and Application to the Northern Bolivian Andes".