Our Maps in Publications
Book Titles:
FOCUS on Geography Magazine:
Other Publications: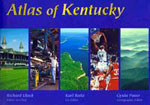 The Atlas of Kentucky, put together by a team of geographers and cartographers from across the state and edited by Professor Richard Ulack (University of Kentucky), was published in 1997 by The University Press of Kentucky. After five years in the planning, research, and design stages, the Atlas is the most comprehensive source for information on Kentucky's land and life. Topics covered in over 600 maps and graphs include the natural environment, settlement patterns, population, mineral and timber resources, agriculture, manufacturing, transportation, tourism and recreation, and politics. 
Atlas of Kentucky
By Richard Ulack, Karl Raitz, Gyula Pauer
Cartography by Donna and Dick Gilbreath
University Press of Kentucky, 1997.
Buy book at the The University Press of Kentucky
Samples