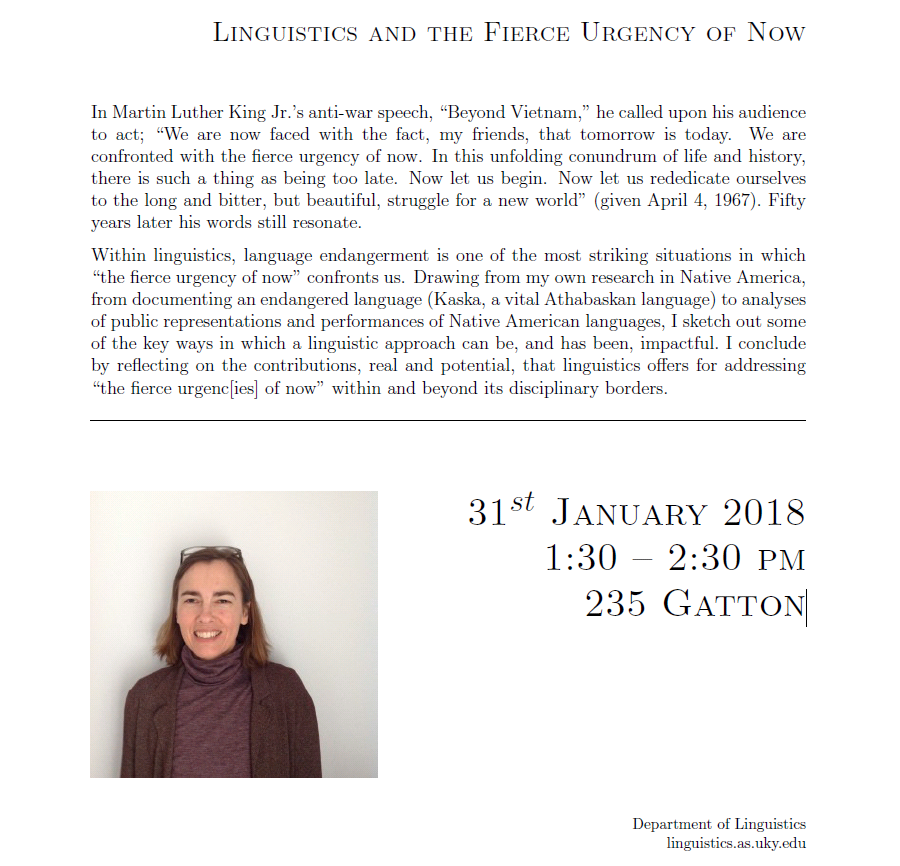 Location:
235 Gatton College of Business and Economics
Type of Event (for grouping events):
Sociolinguists, long concerned with the connections between language and localness, have shown that the ways in which speakers use features of ethnoracially or locally marked varieties are highly salient in their construction of identities of place. In the urban U.S., place identity is enmeshed with identities of class and identities of race: to be from a place is to embody its racial makeup and class delineations just as much as its physical locale.  
This present study combines quantitative analysis and discourse analysis to analyze the speech of middle- and upper-class African American residents of a rapidly-gentrifying neighborhood in Washington, D.C. The data show that drawing upon an ethnolinguistic repertoire (Benor 2010) which combines features of African American English style as well as features of prestige white varieties of English allows speakers to reinforce racial identities which align them with the neighborhood's rich African American identity even while their class identity might better align them with the outsiders. Ultimately, I argue that the linguistic expression of class and place identity is not an add-on to the enactment of racial identities, but that language is in fact the primary site wherein these intersecting identities are negotiated.
Location:
WTY Library 2-34a (Active Learning Classroom)
Type of Event (for grouping events):
Subscribe to sociolinguistics