College of Arts and Sciences Honors Alumni, Professors
By Gail Hairston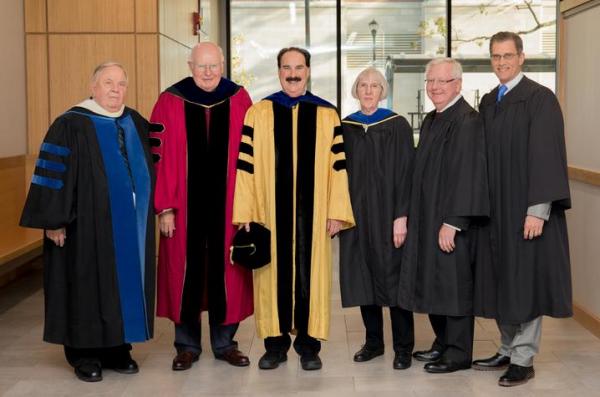 (Left to right) Dan Reedy, Karl Raitz, Dean Mark Kornbluh, Martha Rolingson, Charles Grizzle and Tom Spalding.
The University of Kentucky College of Arts and Sciences celebrated its Hall of Fame Induction Ceremony on Friday, Oct. 6, at the Don & Cathy Jacobs Science Building.
This year's Hall of Fame Induction Ceremony and Reception honored alumni Charlie Grizzle, Martha Rolingson and Tom Spalding, and College of Arts and Sciences faculty members Karl B. Raitz and Daniel R. Reedy. For more about each honoree, see their brief biographies below.
Alumni Inductees
Charlie Grizzle, English, bachelor's degree, 1973 
Charles "Charlie" L. Grizzle, a native of Argillite, Kentucky, in Greenup County, earned his bachelor's degree in English in 1973 from UK. He spent nearly a decade in banking in Louisville, during which time he was involved in numerous political campaigns, including serving as deputy chairman for the Ronald Reagan presidential campaign in Kentucky in 1980. Following a brief stint as executive director of the Republican Party of Kentucky, Grizzle moved to Washington, D.C., to accept a position in the Reagan administration at the U.S. Department of Agriculture. In 1988, President Reagan nominated and the U.S. Senate confirmed him to be an assistant administrator of the U.S. Environmental Protection Agency.
During Grizzle's time at the EPA, his outstanding leadership was recognized by organizations such as The Privatization Council, the International City Management Association and the President's Council on Management Improvement. He also was selected to attend the Senior Managers in Government Program at Harvard University's Kennedy School of Government.
In 1993, with Richard Cantor, Grizzle founded The Grizzle Company, a federal government relations consulting firm, where he represents a number of Kentucky interests in the nation's capital as well as companies and associations on a variety of legislative and regulatory matters.
Grizzle is a past president of the Kentucky Society of Washington and of the University Club of Washington. In 1998, through the Kentucky Society, he established the Henry Clay Distinguished Kentuckian award along with the Henry Clay Internship in Public Policy. Currently, he serves on the board of the Henry Clay Center for Statesmanship.
In addition to being a lifetime member of the UK Alumni Association, Grizzle was the founding donor of the Arts and Sciences International Education Fund and was recently named to the College of Arts and Sciences Capital Campaign Committee.  
Martha Rolingson, anthropology, master's degree, 1960
Martha Ann Rolingson was born in Wichita, Kansas, and grew up in Kansas, Oklahoma and Colorado, graduating from high school in Denver. She became interested in archeology on vacations in the southwestern states and attended the University of Denver where she earned her bachelor's degrees in anthropology and education in 1957.
Rolingson earned a master's degree in anthropology in 1960 from UK and was museum curator at its Museum of Anthropology; she then continued as research associate from 1960-1963. Her research interests were Native American hunter-gatherer cultures in the southeastern United States. She conducted research supported by a National Science Foundation grant and published "Late Paleo-Indian and Early Archaic Manifestations in Western Kentucky" (1966), co-authored with D. W. Schwartz, then director of the museum. She attended the University of Michigan (1963-65) toward her doctorate and returned to UK as an instructor in anthropology and acting director of the Museum of Anthropology from 1965-68. Rolingson completed her dissertation on hunter-gatherer cultures of the Middle Green River Region in Kentucky earning her doctoral degree in 1967 and, while at UK, carried out several archeological projects.
Rolingson was hired in 1968 by the Arkansas Archeological Survey, a division of the University of Arkansas system. Over the next 37 years, she had various responsibilities as both archeologist and professor. She was instructor and field supervisor on numerous projects working with people interested in archeology, and she directed Arkansas Archeological Society Training Programs in conjunction with her research and assisted other survey archeologists. Rolingson provided advice and information on archeology to state and federal agencies and to the public, and presented public programs. She taught undergraduate and graduate classes at three universities with research interests in archeology and prehistory of the Midsouth region and Lower Mississippi Valley, particularly farming cultures, community planning and material culture.
Working with Arkansas State Parks, Rolingson directed research at the Toltec Mounds site and Plum Bayou culture in central Arkansas (1975-2005) with several state and federal agencies supporting funding for research and development. Her final report, "Toltec Mounds: Archeology of the Mound-and-Plaza Complex" (2012), analyzed 30 years of research. She was resource person for public programs, exhibits and park development at Toltec Mounds State Park and published several monographs and numerous articles and book chapters on Arkansas archeology.
Rolingson retired to Texas in 2005 to live near her family. She is president of the Alvin Library League, a support group of the library, and enjoys Native American basketry, genealogy, travel, needlepoint and reading.
Tom Spalding, geological sciences, bachelor's degree, 1980, master's degree, 1982
Thomas D. Spalding, vice president of Geoscience for Pioneer Natural Resources, was born in Muskegon, Michigan, in 1958 and grew up in Louisville, Kentucky. He attended Westport High School, played on the football team and graduated in 1976. He attended UK and was a resident advisor in Haggin Hall from 1978 to 1980.
He received his bachelor's degree in geology in 1980 and master's degree in geology in 1982. While at the UK geology department, he received the undergraduate Pirtle Award and the award for outstanding student at the UK summer field camp course. While a graduate student, Spalding received the Outstanding Teaching Assistant Award and served as president of the UK student chapter of Sigma Gamma Epsilon, the national honor society for geosciences.
Spalding began his career in petroleum geoscience at Mobil in Dallas, Texas, in 1982. While at Mobil, he worked as an exploration and production geoscientist for domestic divisions in Dallas, Houston and New Orleans. He completed his Mobil career working six years in their international division with emphasis on West Africa exploration.
He came to Pioneer Natural Resources in 1997, first working in international exploration and later serving as offshore Gulf of Mexico exploration manager in 1998, vice president-North America exploration in 2004, vice president-geoscience technology in 2010, and vice president-Permian subsurface in 2011. Since 2015, Spalding has held the position of vice president-geoscience, providing oversight for geoscience across Pioneer and managing subsurface geoscience and reservoir engineering integration. He has been a member of the American Association of Petroleum Geologists since 1981, and current or past member of the Dallas Geological Society, Houston Geological Society and New Orleans Geological Society.
Spalding has served on the Alumni Advisory Board for the UK Department of Earth and Environmental Sciences (EES) since 2004 and received their Distinguished Geology Alumnus Award in 2014. He has been recruiting at UK for the past 13 years and has hired 10 graduates from the UK EES department at Pioneer.
Spalding met his wife of 36 years, Linda Butcher Spalding, at UK, and they both still "bleed blue." Tom and Linda have five daughters, Jennifer Spalding, Katelin Nickoli, Hannah Spalding, Rachel McCann and Emma Spalding. They currently reside in Grapevine, Texas, and also have a home in Franklin, Tennessee.
Faculty Inductees
Karl B. Raitz, Department of Geography
Karl Raitz, professor emeritus of UK Department of Geography, received his doctoral degree from the Department of Geography at the University of Minnesota in 1970. He served as a faculty member in the UK geography department from 1970 until his retirement in 2013. His research and teaching interests include historical geography and cultural studies with an emphasis on American landscapes, visual and qualitative methods, and a regional focus on the United States, especially Appalachia, the Upland South and the Middle West.
Raitz's research has been supported by grants from the National Endowment for the Humanities, the Pioneer America Society and other agencies. His awards include the University of Minnesota Department of Geography Distinguished Alumni Award, 2004; the Pioneer America Society's Henry H. Douglas Award for Research, Publication and Editorial Excellence for the two-volume work, "The National Road" and "A Guide to the National Road" (Johns Hopkins University Press, 1996); the Society of Architectural Historians' Antoinette Forrester Downing Award for excellence in architectural surveys over the period 1995-1996, also for "The National Road" and "A Guide to the National Road;" UK College of Arts and Sciences Distinguished Professor Award, 1996-1997; Association of American Geographers Life Time Achievement Award, Southeast Division,1993; UK College of Arts and Sciences Distinguished Teacher Award, 1993; the UK Chancellor's Excellence in Teaching Award, 1991; the Provost's Distinguished Service Professor Award, 2010; and the UK Libraries Award for Intellectual Achievement, 2014.
Raitz's professional service includes four terms as departmental chair from 1975 to 1980 and from 1996 to 2008. He has served as chair and member on numerous college and university committees as well as committee and book review editorships for various professional organizations. Raitz also served as vice president and president of the Southeast Division of the Association of American Geographers in the 1980s and 1990s. 
Daniel R. Reedy, Department of Hispanic Studies
Daniel R. Reedy, professor emeritus of Spanish and dean emeritus of the Graduate School, was born on a farm in Clark County, Illinois. Reedy earned bachelor's degrees in Spanish, English and Latin in 1957 from Eastern Illinois University (EIU). He subsequently earned a master's degree in Spanish (1959) and doctoral degree in Latin American literature and linguistics (1962) from the University of Illinois (UI). He received an honorary doctor of humane letters from EIU in 1981 and was named Distinguished Alumnus of the UI College of Liberal Arts and Sciences in 1999.
Reedy began his professional career in the Department of Romance Languages at the University of North Carolina-Chapel Hill. In 1967, he and fellow faculty members moved from Chapel Hill to Lexington to develop the doctoral program in Spanish at UK. His instructional assignments have included all levels of language and literature, from beginning Spanish to advanced graduate seminars. During his tenure, he was primary mentor to 45 doctoral recipients with major interests in Latin America. In 1979, he received the William B. Sturgill Award for Outstanding Contributions to Graduate Education.
A specialist in the fields of colonial Latin American and modern Peruvian literatures, Reedy's contacts with Peru began as a Rotary International Fellow in 1959 with pre-doctoral studies at the Universidad Nacional Mayor de San Marcos in Lima. Research for his three books on Peruvian literature and more than 40 articles was supported in part by a Fulbright Research Fellowship (1966-67) and a grant from the Social Sciences Research Council (1971). He was also a contributing editor to the Library of Congress' "Handbook of Latin American Studies" from 1965 to 1990, and served as president of the South Eastern Council on Latin American Studies from 1986-87.
In 1975-76, Reedy was awarded an American Council on Education Fellowship in Academic Administration under the mentorship of UK President Otis A. Singletary. Subsequently, his assignments included seven years as department chair, followed by 13 years in the Graduate School, first as associate dean for academic affairs (1983-88) and next as dean (1988-96). During 1994-95, he served as president of the Midwestern Council of Graduate Deans; the Council of Southern Graduate Schools recognized him in 1999 for Outstanding Contributions to Graduate Education in the South.
Despite his commitment to administrative assignments, Reedy never abandoned his love for the classroom. During only one academic year of his professional career was he absent from teaching responsibilities. Following his retirement as dean, Reedy was twice elected by university faculty to the UK Board of Trustees (1997-2001), where he was twice elected board secretary.
Since retirement from UK, Reedy and his wife, Nancy, have enjoyed travel in the United States, Europe, Caribbean and South America, including a trek in the Amazon and sailing around Cape Horn. His anecdotal youthful memories appeared in serial form in his hometown weekly, The Marshall Advocate, and were published in 2006 as a collection titled "Growin' Up on Big Crick." 
UK is the University for Kentucky. At UK, we are educating more students, treating more patients with complex illnesses and conducting more research and service than at any time in our 150-year history. To read more about the UK story and how you can support continued investment in your university and the Commonwealth, go to: uky.edu/uk4ky. #uk4ky #seeblue