Location:
UKFCU Esports Lounge
Speaker(s) / Presenter(s):
Jacob Wasilkowski; Kevin Dohner; Ofir Klein; Boyd Shearer
Please join us next Thursday, September 28th from 5 - 6pm in the UKFCU Sports Lounge (401 S Limestone ... a short walk from POT).
We're planning on 4 short talks from current UK geographers and alumni.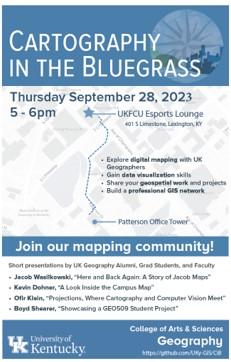 Jacob Wasilkowski, "Here and Back Again: A Story of Jacob Maps"
Kevin Dohner, "A Look Inside the Campus Map"
Ofir Klein, "Projections, Where Cartography and Computer Vision Meet"
Boyd Shearer, "Showcasing a GEO509 Student Project"
See the attached flyer for a map and details. There will be an option for additional socializing nearby afterwards.
Hope to see you there!
--
Rich Donohue, PhD
Assistant Professor
Digital Mapping/New Maps Plus
Department of Geography
University of Kentucky
he/him/his