Explore Careers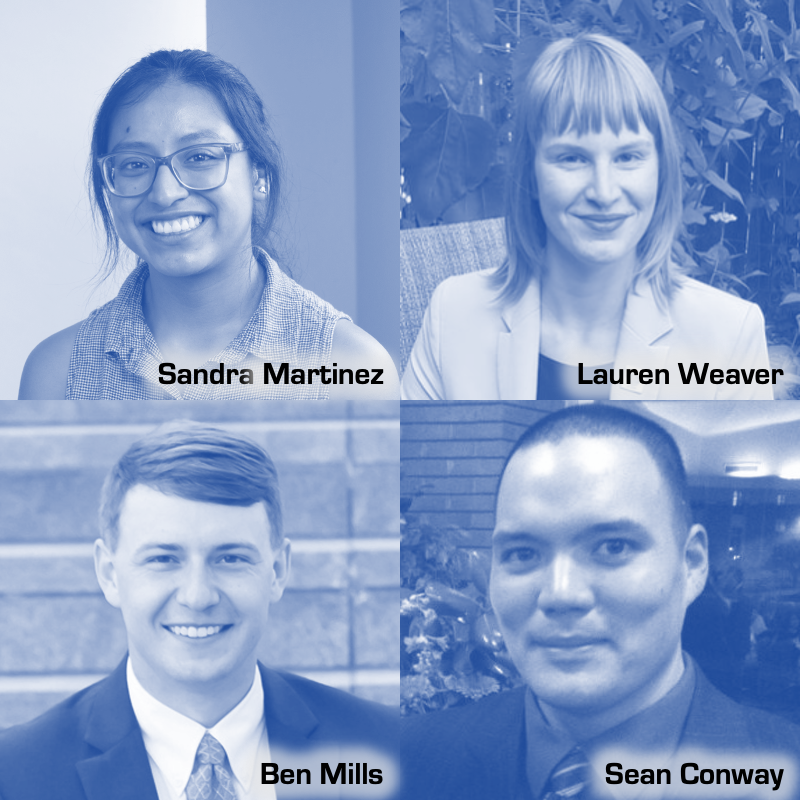 Geography Career Night is Wed., Feb. 2nd, 5-6:30pm
Join a panel of alumni and professionals for a night dedicated to kickstarting your career. We'll be meeting in-person (masks required) on Wed., Feb. 2nd, at 5pm in the Stuckert Career Center on campus. Bring your resume to workshop with a career counselor and get a new professional headshot for your LinkedIn profile. Then stay for a panel discussion with alumni from UK Geography, discussing their career path after graduation:
Sean Conway is an Orthoimagery Technical Expert with NV5 Geospatial, graduating from UK Geography in 2014. Using the tools and techniques he learned during his time at UK, he advanced to his current position overseeing large scale imagery projects. On Twitter and Instagram: @geo_spatialist. 
Sandra Martinez is a Project Manager at Mediocre Creative. She has spent years dedicated to working with people to help them better understand daunting concepts. She loves piecing together innovative solutions to complex problems. During her free time, you can find her exploring trails with her pup, listening to popular science podcasts, or trying her hand at a new recipe.
Benjamin Mills attended West Point for two years, prior to graduating summa cum laude from UK Geography in 2017, then earning the law degree from UK. Mr. Mills has served as a Staff Attorney for the 27th Judicial Circuit of the Kentucky Court of Justice and will soon be transitioning to a position as an Assistant Commonwealth's Attorney.
Lauren Weaver, GISP (Geographic Information Systems Professional) is a GIS Analyst with the Lexington Government. Lauren holds a BS in Geography from the University of Louisville and a Graduate Certificate in Digital Mapping from UK Geography. See recent projects at http://www.lwellweaver.com/.
Geography: the Science of Place and Space
Geographers ask where things are located on the surface of the earth, why they are located where they are, how places differ from one another, and how people interact with the environment. A major in geography analyzes and explains the location of and interrelationships between human and physical features of the earth's environment. Geographers also examine how and why features and their locations change over time, with particular interest in the many impacts of these changes on both people and natural settings.
Geography is, therefore, both a social and a physical science. Because its fundamental subject matter is people and their environments, the discipline serves as an effective bridge between the physical and cultural worlds. Majors in geography build solid academic foundations that draw from and interrelate with areas of study from the natural, social and behavioral sciences, humanities, computer science, design, and communication. The Department of Geography has developed three major tracks: environment, mapping & GIS, and cities & societies. Undergraduate geography degrees include a Bachelor of Arts and a Bachelor of Science degree; graduate degree include the Master of Arts degree and Doctor of Philosophy degree.
What skills does studying geography develop?
aptitude for understanding current local and global issues
knowledge of the influence of humans on the environment
spatial analysis
geographic information technologies
international and global perspectives on environmental, social, cultural, economic, and political issues
interdisciplinary collaboration
Undergraduate education requirements: 
https://geography.as.uky.edu/geography-undergraduate-program.
Graduate education requirements: 
https://geography.as.uky.edu/geography-graduate-program.
 
Career Opportunities
A degree in geography is useful for students wishing to pursue a postgraduate education as well as enter such careers as earth and environmental sciences, economic development, environmental management, international trade, transportation analysis and planning, diplomacy, government administration from local to federal levels, market analysis, urban and regional planning, research, teaching, cartography, Geographic Information Systems (GIS) and private business. Other occupations include but are not limited to the following:
international area specialist
business site selection
cartographer
GIS analyst
environmental scientist
geoscientist
teacher
environmental planner
natural resource manager
geographer
geopolitical analyst
hydrologist
intelligence analyst
land use planner/analyst
marketing analyst
urban/regional planner
community developer
technical writer
For more information about career opportunities, contact the UK Stuckert Career Center.