2018 - 46th Annual Ellen Churchill Semple Day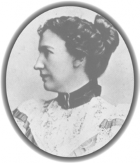 The University of Kentucky Department of Geography invites you to our 46th Annual Ellen Churchill Semple Day, a celebration of the Geography Program, our history, our present students and faculty, our alumni and friends, and the achievements of all.
Schedule of Events, Friday April 20, 2018
A Friday Afternoon Address by Dr. Sarah Elwood,  Professor in the Department of Geography at the University of Washington, and a faculty affiliate of the UW's West Coast Poverty Center, Center for Studies in Demography and Ecology, and Certificate in Public Scholarship W.T. Young Library, UK Athletics Association Auditorium, University of Kentucky at 2:00pm.
The Friday Evening Reception and Dinner held at the Lyric Theatre, (in downtown Lexington) at 6:00pm.
Ellen Churchill Semple was born in Louisville in 1863, and is considered one of the century's foremost geographers. She entered Vassar College at the age of 15 and received both her bachelor's and master's degrees from there. Her academic home was literally spread across the world; she was a keen believer in experiencing places and people as a means of better understanding them. Ms. Semple was a dedicated researcher and a profuse writer. She was named a charter member of the Association of American Geographers, and was elected the association's president (and first woman president) in 1921.
Semple Day is our annual spring celebration of the Geography Department at the University of Kentucky. Come and reacquaint yourself with the Department and University, and enjoy the day's highlights: an afternoon lecture by a distinguished visitor and an evening celebration. The evening program includes a buffet dinner, following a cocktail hour, at the Lyric Theater in downtown Lexington, only a few blocks from campus. Faculty, staff, students, alumni, and friends of the department are all welcome. This event provides a chance to catch up with friends (and make new ones), a venue for a brief program of awards and recognitions, and a convenient departure point for post-Semple celebrations in Lexington's vibrant downtown social scene.
We welcome new friends at this event! If you would like to experience the glory of Semple Day at the University of Kentucky, we encourage you to contact the Geography Department's office for more information. 817 Patterson Office Tower, Lexington, KY 40506-0027, (859) 257-2931, or email: geography@uky.edu
Visit our website: https://geography.as.uky.edu/ for registration and ticket information.