By Keith Hautala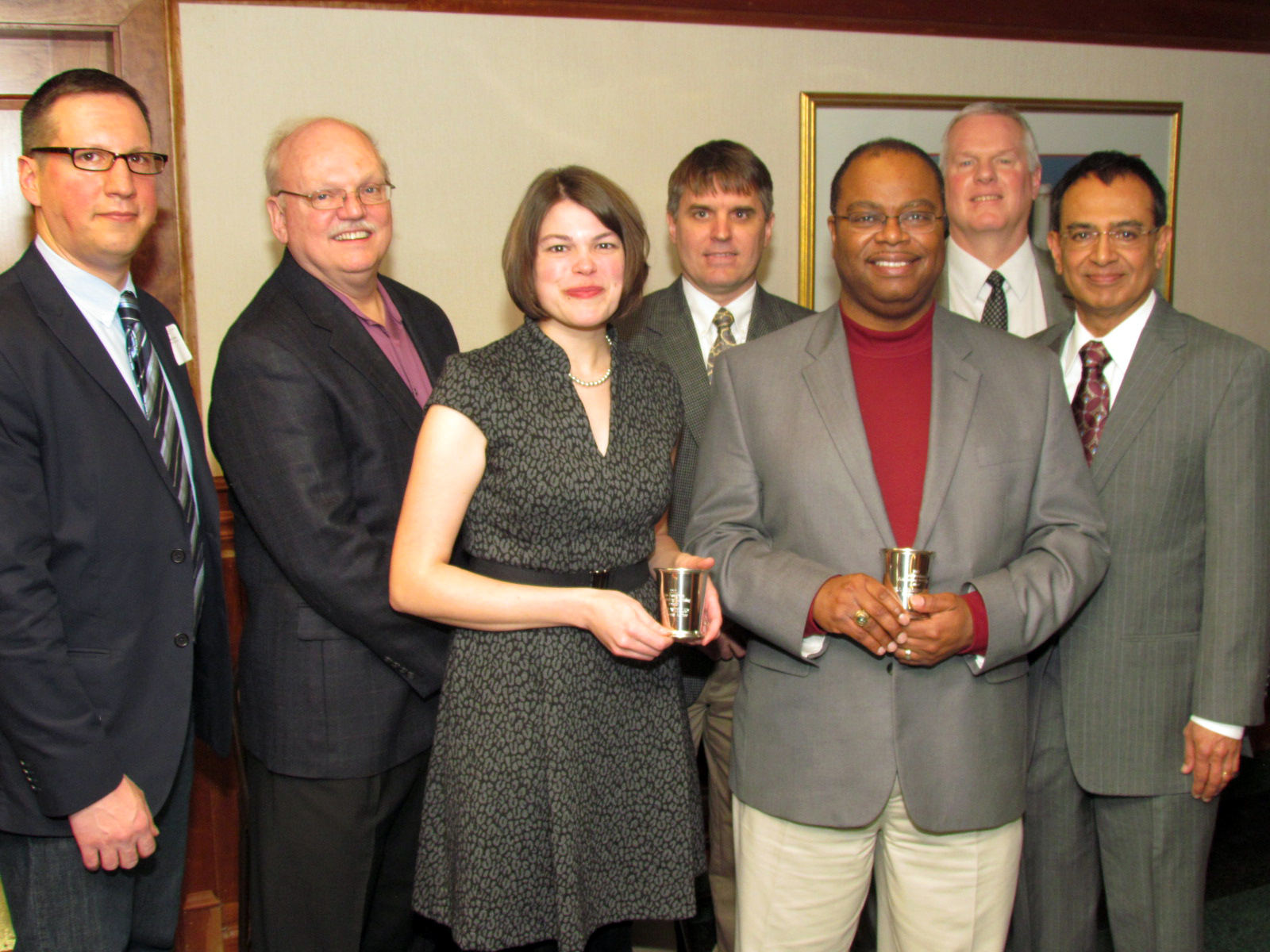 The University of Kentucky's Jamie Wheeler and Sebastian Bryson were honored as the recipients of the 18th Ken Freedman Outstanding Advisor Awards at a luncheon held on Friday, Feb. 24.
The award recognizes outstanding service in the field of academic advising. Two awards are presented each year, one to a full-time professional advisor and another to a faculty advisor.
"Every time a University of Kentucky student graduates, an advisor earns his or her wings," said UK Provost Kumble Subbaswamy, evoking Frank Capra's 1946 film "It's a Wonderful Life."
This year saw more nominations than in any year previous. In total, 35 professional advisors and 39 faculty advisors were proposed to receive the honor, with several garnering multiple nominations from the students they serve.
"This was a tough year," said Mike Mullen, associate provost for undergraduate education. "With so many excellent and deserving nominees, it was a very difficult decision to pick just two."
Jamie Wheeler, professional advisor in the College of Arts and Sciences' Humanities Community, was cited by her nominators for being "warm," "caring," "upbeat," "organized" and "helpful." One nominator wrote: "Simply put, I would not have been able to excel at the University of Kentucky without Jamie Wheeler."
Wheeler says she feels tremendous support from her colleagues in the UK Advising Network.
"The past recipients of this award have been such great mentors to me — not only mentors, but friends as well," she said. "There is such a great sense of community here. I feel like I am surrounded by friends today."
Professor Sebastian Bryson, faculty advisor for the College of Engineering's Department of Civil Engineering, was cited by his nominators for being "generous," "comforting," "committed," for giving "excellent guidance" and for being "always available." One nominator wrote: "He has an incredible gift to motivate students and push them to meet their highest standards."
Bryson said he was honored to be recognized but he felt obligated to share the honor with his colleagues, who form "one cohesive team."
"I did not win this award," he said. "The Department of Civil Engineering Advising Team won this award."
Six finalists for the professional award were also recognized, each receiving a certificate of honorable mention. They were: Kahlil Baker, CARES; Jennifer Doerge, Engineering; Tricia Hargrove, Arts and Sciences; Casey Shadix, Business and Economics; Michael Stone, CATS; and Suzanne Wampler, Engineering.
The Ken Freedman Outstanding Advisor Awards are sponsored by the UK Advising Network and the Office of the Associate Provost for Undergraduate Education. They are named in honor of Ken Freedman, who served as a professional advisor at UK for 15 years prior to his death in 2001.