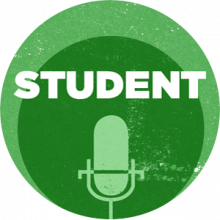 Fall of 2012 was the perfect time to conduct a class about American electoral politics - so it was taken up as the topic for Currents, a class offered to incoming Freshmen. The course explores the 2012 election from a variety of academic perspectives - including, but not limited to, philosophy, economics, history, and, of course, political science. In this podcast, five Currents students shared their experiences with the class. 
The students interviewed are: Trevor McNary, a double major in International Studies and Economics with a minor in Arabic and Islamic Studies; Jonathan Burdick, a Chemistry major; Elisabeth Campbell, a double major in Russian and Political Science with a minor in Spanish; Kevin States, a double major in marketing & management; and Kyle Richardson, a Political Science major. 
This podcast was produced by Cheyenne Hohman.

This work is licensed under a Creative Commons Attribution-NonCommercial-ShareAlike 3.0 Unported License.