Location:
Kincaid Auditorium in the Gatton Business and Economics Building
Dr. Karida L. Brown, Professor of Sociology at Emory University, will visit the University of Kentucky campus to discuss her book, Gone Home: Race and Roots Through Appalachia, on Thursday, March 30th at 5:00 pm in Kincaid Auditorium, Gatton College of Business and Economics. 
Dr. Brown's visit is made possible through the Miriam Jane Van Dyke Barager Endowment for Diversity and Inclusion at the UK Martin School of Public Policy and Administration, and through co-sponsors the Appalachian Center and Appalachian Studies Program; the Commonwealth Institute for Black Studies; the College of Agriculture, Food, and Environment Office of Diversity; the College of Arts & Sciences Department of Sociology; and the Graduate School Office of Diversity and Inclusion. 
The event is free and open to the public.  
Also join us for a book discussion series discussing Dr. Brown's Gone Home: Race and Roots Through Appalachia leading up to her visit to campus! The book club kickoff events will be held Monday, February 20th at 6:00 pm (Zoom) and Thursday, February 23rd at 3:30 pm (at the Appalachian Center).
Discussion 1 | Week of February 27th (Zoom and in-person options)
Discussion 2 | Week of March 20th (Zoom and in-person options)
TO SIGN UP | Please complete this form by Friday, Feb. 3rd - contact Dr. Jeongyoon Lee at Jeongyoon.Lee@uky.edu with any questions.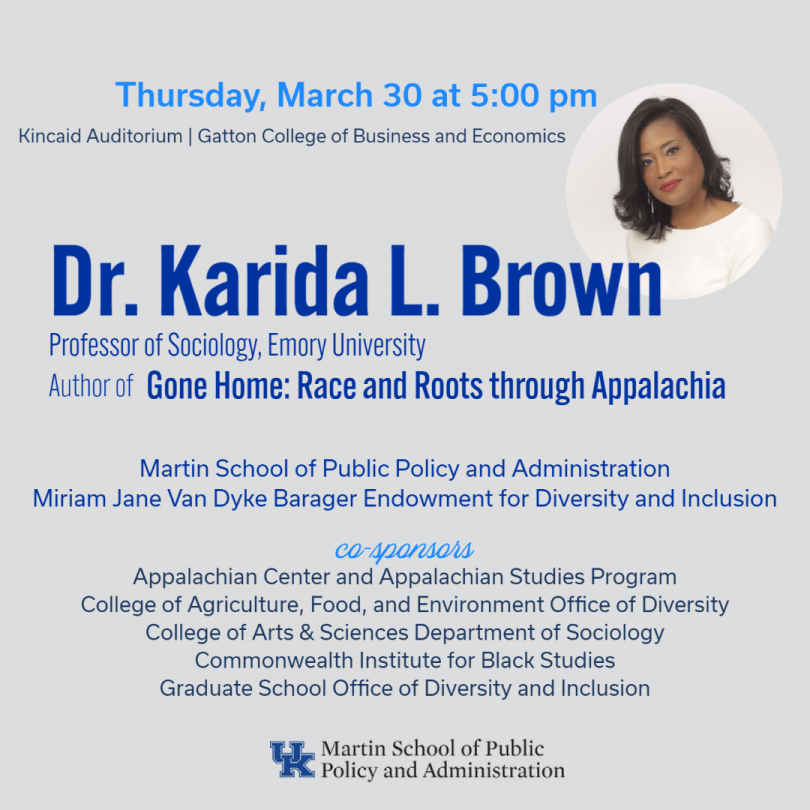 Type of Event (for grouping events):